The Hampton Roads Service League was founded in 1949 by thirty-six insightful and forward-thinking women. The organization was officially accepted as a Junior League by AJLI in 1956.  Since that time we have been known as the Junior League of Hampton Roads!
Take a look at our history and the accomplishments we are so proud of!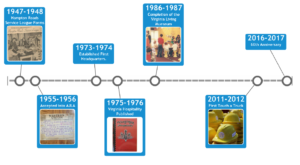 Sine 1956, the Junior League of Hampton Roads, formerly the Hampton Roads Service League, has been serving the Virginia Peninsula.  Our history is as unique as the members that have comprised the League.  Click on the links below to learn more about our impact on the community and key events that have occurred through the years!