Community Assistance Grant
Our 2023 application is open! Click here for the application.
The completed application must be returned by 11:59 pm on Friday, April 14, 2023. Up to three organizations may be selected as a Grant Recipient and awarded between $500-$4000 to continue their work.
The Junior League of Hampton Roads is an organization of women committed to promoting voluntarism, developing the potential of women and improving communities through the effective action and leadership of trained volunteers. Part of our mission includes a Community Assistance Grant to support non-profits doing work that improved lives in our community.
2022 Community Assistance Grants were awarded to the following incredible organizations:
ShoeLady.org is a Newport-News based non-profit organization dedicated to seeing that economically disadvantaged children have good, comfortable shoes that fit.  The $1,000 grant will be used to purchase new shoes for the local school children they serve for one academic year.
Hampton Roads Urban Agriculture $2,500
Hampton Roads Urban Agriculture's mission is empowering food insecure communities to create and maintain access to healthy food.  The $2,500 grant will be used to help with the Farmer's Market at their Urban Garden.  They are working on a project that includes hiring a chef to perform demonstrations of healthy food options and alternatives for the community.  To accomplish this, they'll need to purchase a flat top grill as well as tables and tents for outside.  Funding will also be used for food business training for youth.
Menchville House is a year-round emergency shelter for local homeless families.  Their mission is to help homeless families return to self-sufficiency by providing a temporary home and supportive services.  The $1,000 grant will be used to support their Children's Literacy Program.  As part of the Children's Literacy Program, they teach the children about financial literacy by showing them how to create a budget and taking them grocery shopping.  The funds will also be used towards the purchase of books and games as well as transportation for field trips to the Children's Museum and Go Ape Adventure Park.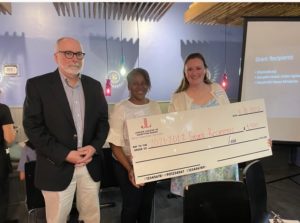 Established in 1980, we have awarded over $187,000 to 200 organizations in the past 40 years.
The Community Assistance Grant ranges from $500 – $4,000 and is open to all 501(c)3 non-profit organizations that serve the following communities: Newport News, Hampton, Poquoson, York County, Williamsburg, James City County, Isle of Wight, Smithfield, and Gloucester.  Grant recipients will be notified mid-April via e-mail and will be invited to attend our end-of-the-year banquet in mid-May of each year. 
If you have any questions about the Community Assistance Grant, please contact our Vice President of Community, at VPCommunity@jlhamptonroads.org.