The 2017-2018 New Member Class was able to make an impact on our community with their Early Literacy Storytelling Workshop.  Click here to learn more about their successful event!

Learn More

Click here to purchase tickets to the JLHR's first ever Race for a Cause!  This Derby Watch party will be the "can't miss" event of the season!

Learn More

The Junior League of Hampton Roads would like to thank one of its newest sponsors, Pariser Dermatology!

Learn More
Congratulations REACH!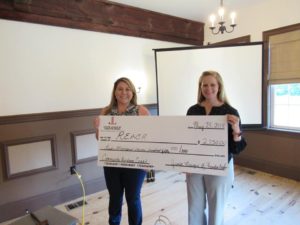 Congratulations to REACH (Reading Enriches All Children), the recipient of the 2018 Junior League of Hampton Roads Community Assistance Grant!  They were honored at our annual May Dinner Celebration at Williamsburg Winery.  REACH received $2,750, which will go towards their Moonbeams and Sweet Dreams initiative.
The number one predictor of literacy success is access to developmentally-appropriate books in the home.  Unfortunately, low-income communities only have 1 developmentally-appropriate book per 300 children, compared to 13 books per child in middle class communities.  To combat this, REACH has developed the Moonbeams and Sweet Dreams initiative.  This initiative will provide board books to low-income families in downtown Newport News, as well as training to parents on early literacy strategies, such as picture walking.
Interested in joining our League?  Click here to learn more about our recruitment process and for our online application form.
By continuing to use the site, you agree to the use of cookies. more information
The cookie settings on this website are set to "allow cookies" to give you the best browsing experience possible. If you continue to use this website without changing your cookie settings or you click "Accept" below then you are consenting to this.