Welcome to the 2019-2020 League year of the Junior League of Hampton Roads!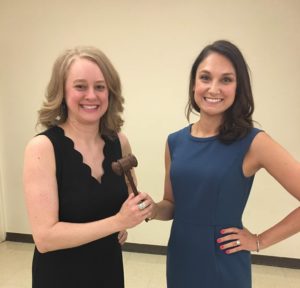 I am very excited to be serving as President of the JLHR, an organization that has been serving Hampton Roads for almost 65 years. With over 300 members in our League and more than 140,000 members throughout the U.S., Canada, Mexico, and the U.K., I am grateful to be a member of the JLHR and the Association of Junior Leagues International. In this organization I have grown, learned and developed as a leader, and I have seen our work in the community improve lives. It is an incredible honor to lead the strong, smart, passionate women in our group.
This year, the JLHR will continue to provide an environment that gives women the space and freedom to grow, develop as leaders, and experience community with empowered women who empower other women. Because in that environment, we are UNSTOPPABLE.
We need to be unstoppable, because there is much to be done. We have a community that needs us. We have funds to raise. We have members we are empowering and developing into trained volunteers and leaders. Here are just a few of our goals for the year:
Develop a new strategic plan
Provide hundreds of hours of volunteer opportunities for our members
Provide exceptional training and development opportunities
Raise funds to provide support for community partners and women and families in our service area; to provide thousands of dollars in scholarships to deserving young women; and to maintain and expand our organization's operational capacity
There is a great deal of work to be done, but I'm not afraid of that work. And I know our members aren't either. Because we are unstoppable.  We've got this.
To the JLHR Members: Thank you for your service to our community and for trusting me to serve as President of the Junior League of Hampton Roads.
To everyone else: Thank you for visiting our website. Stay awhile and check us out! I also encourage you to join us as a member, sponsor, donor, or supporter to help us continue the revolutionary work of our trained volunteers in the Hampton Roads community.
Marie Mendelsohn
President, 2019-2020
mmendelsohn@jlhamptonroads.org