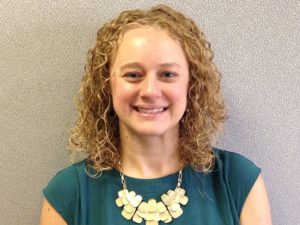 A Revolutionary. The definition: an extraordinary woman who boldly leads and explores the outer bounds of civil society when others can't, when others won't; who questions authority; who rewrites the rules; who challenges the status quo.
This quote is on my favorite coffee mug that I have at work and I get to read those words every day. It's the best reminder that we can do anything we set our minds to, because we are a part of this village called the Junior League of Hampton Roads. I love the saying, "If you want something done, and done right, ask a woman to do it." More specifically, a Junior League woman.
And the Junior League women that I have the pleasure of working with are a village of amazing, dedicated, and Revolutionary women committed to continuing a 62 year legacy of service to our community. I could not be more honored and proud to be serving as the JLHR President for the 2018 – 2019 League year, and am very humbled that I will have the opportunity to lead this wonderful organization filled with some of the most inspiring women I have ever had the privilege of working with.
It is with our contributions of time, talent, and passion that allow this organization the means to continue this legacy of service in the Hampton Roads area.
We are in the midst of transforming this organization, and taking bold steps to ensure the long-term heath, vitality and viability of the JLHR for years to come. We have already begun to put measures into place that are necessary and critical for the welfare of the JLHR as we continue to adapt to the needs of our members and the community.
For this upcoming year, my promise to each member in this organization is to provide an environment where we can learn new skills, acquire new tools, effectively impact the community, and for us to continue to develop into strong civic leaders. It's within this environment that we will inevitably meet new friends, strengthen good friendships, and hopefully, have a lot of fun together.
I also promise to be bold, to take risks, to advocate for each member and for the JLHR, so that we can do the things that are needed to be leaders, to gain a seat at the table, and to bring about positive change and sustainable impact for us and the community. I will be cognitively aware of each member's needs. I will listen. And ultimately, I will meet each member where they are. The JLHR succeeds because of our members.
In the upcoming year, I urge each member to get excited, be bold, take risks, challenge the status quo, and advocate for the changes that they want to see in themselves, in the League, and in our community.
The world is our oyster. Let's be Revolutionaries together.
The Junior League of Hampton Roads embraces diverse perspectives, builds partnerships and strives to improve our local communities. Whether you are serving an agency in need, considering membership or interested in making a financial gift to support our mission, we invite you to further explore our website.
Thank you for visiting our site and taking the time to learn more about the Junior League of Hampton Roads. I am truly honored to serve with such an amazing group of woman who all share the same goal of building better communities.
Thank you for your support.
Cathy Westphal
President, Junior League of Hampton Roads