Why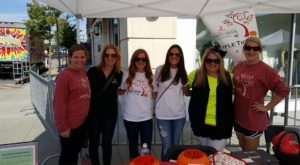 join?
Leadership opportunities, from committee chairs to the Board of Directors!
Professional development and training, both in-house and through the Association of Junior Leagues International!
Social events to promote friendships and professional networking, including family events, girl's nights out, and couples events!
Who can join?
All women who demonstrate an interest in and commitment to voluntarism.
How can I learn more about recruitment?
Check out our Facebook page to get the most up-to-date information about our recruitment events and activities.
Contact our JLHR Recruitment Chair, Anne Strickland, at Recruitment@jlhamptonroads.org.
Note:  These events offer you the opportunity to meet and socialize with current active JLHR members and learn more about the League.  You do not need to attend in order to submit an application.
This sounds amazing!  How do I apply?
The application period for the 2019-2020 League Year closed August 31, 2019.
Membership dues must be paid no later than

September 7, 2019

.  Dues are $120 for the 2019-2020 year.
Questions?  Please contact recruitment@jlhamptonroads.org.
Click to view the 2019-2020 New Member Overview.