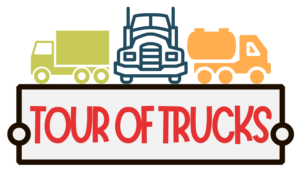 Sunday, April 23, 2023
12:00PM – 3:00PM
(VIP access begins at 11:00AM)
Larry King Law's Langley Speedway
TOUR OF TRUCKS is a community-wide event where families can see, touch, climb and learn about vehicles of all types, across industries like public service, emergency, utility, construction, transportation, and delivery—all in one place! Children can interact with their favorite vehicles, get behind the wheel, and meet the people who build, protect and serve our community. Additional activities for kids and adults will be on-site as well.
Community Impact

When you attend TOUR OF TRUCKS, you're supporting the Junior League of Hampton Roads and its community programs. The JLHR provides funding for local scholarships, grants for community partners, training for our network of volunteers, and support for immediate service needs on the Peninsula. Your participation in TOUR OF TRUCKS allows the JLHR to continue to provide essential services in our community and training for women who are committed to making a difference.
Sponsorship Opportunities
TOUR OF TRUCKS offers sponsors an excellent opportunity to support the Hampton Roads community. Sponsorships can be in the form of providing a vehicle or heavy machinery to be displayed during the event and/or financial support. To learn more about the different sponsorship levels and benefits for sponsors, please review our Sponsorship page and our 2023 Sponsorship Packet.
Event Tickets
Tickets are now on sale here!