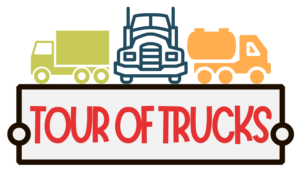 TOUR OF TRUCKS – April 18, 2021
TOUR OF TRUCKS will feature vehicles of all kinds – from emergency response to entertainment to construction! The drive-thru format will keep the community and participants safe while providing an outlet for family fun. Attendees will be thrilled to complete the TOUR OF TRUCKS by driving their personal vehicle down and around the Langley Speedway race track.
Event Proceeds
Your support of Tour of Trucks (as a sponsor or attendee) allows the JLHR to continue to provide our community with trained volunteers and woman leaders who are committed to making a difference in Hampton Roads and in our world.
Sponsorship Opportunities
Touch a Truck offers sponsors an excellent opportunity to interact and support the Hampton Roads community. Sponsorships can be in the form of providing a vehicle/heavy machinery to be displayed during TOUR OF TRUCKS and/or financial support.  To learn more about the different sponsorship levels and benefits for sponsors, please check out our Sponsorship Packet.  
Additional information about sponsorship opportunities can be found on our Tour of Trucks Sponsorship page. This includes Participating Vehicle Guidelines and the Sponsor Commitment Form/Payment.
Event Tickets
Tour of Trucks will be a ticketed event. Attendees must purchase tickets in advance and arrive during the selected time slot. We are selling a limited number of tickets, so don't delay!  For just $35/car, attendees can enjoy this safe and fun family friendly event. 
For nearly a decade, JLHR has proudly hosted a Touch a Truck event. However, due to the ongoing impact of the pandemic, this year we are excited to shift the format of the event and provide our community and partners a safe and fun event.