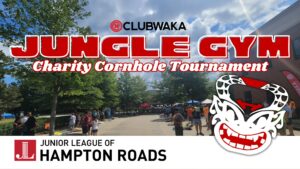 Saturday, September 23, 2023
12:30PM – 6:30PM
Jungle Gym Strength & Conditioning
Calling all cornholers! Jungle Gym Strength & Conditioning is teaming up with CLUBWAKA to bring you an exhilarating one-day cornhole extravaganza in support of The Junior League of Hampton Roads. Prepare for an unforgettable day dedicated to making a difference. Get ready for a blast of exciting games, entertainment, refreshing drinks, delicious food, and much more!
Tournament Format
4-person coed teams (2 males and 2 women)
Players will take turns rotating by game
Each team will compete in 3 pool play matches
Each match is a best of 3 game series
Following the pool play round, the top teams will advance to a single elimination tournament to determine a champion
Please review the CLUBWAKA Hampton Roads Cornhole Rulebook
All participants must be 21+
No team? No worries! Join as a free agent, and we'll help find you a team!
Registration Includes
3 Guaranteed Games
Your first drink is included with your registration
CLUBWAKA / Jungle Gym koozie
Charity Donation
There will be entertainment, food truck, and additional raffles/contests to benefit The Junior League of Hampton Roads
SPONSORSHIP OPPORTUNITIES
By becoming a Board Sponsor, you can support a great cause while showcasing your brand.
Board Sponsorship – $300 (Includes Branded Cornhole Boards): Get a set of custom-branded cornhole boards used during the tournament, which you can keep afterward. Plus, a dedicated social media post within the Facebook event, highlight in our welcome packet, and opportunity to set up a promotional table and provide giveaways or raffle prizes (optional).
Board Sponsorship – $100 (For companies with existing boards): If you already own boards in good condition, you can enjoy the sponsorship perks above at a reduced rate.
All proceeds from sponsorships benefit the Junior League of Hampton Roads (JLHR). Don't miss out on this opportunity! Contact Laura Gonzalez at lagonzalez@jlhamptonroads.org to secure your sponsorship by September 8th.
Special thanks to the DIY Workshop for generously agreeing to make the boards for our sponsors.