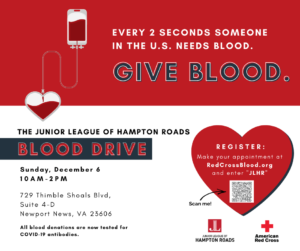 Date: Sunday, December 6th, 10:00am-2:00pm
Junior League of Hampton Roads Headquarters
729 Thimble Shoals Blvd. Suite 4D
Newport News, VA 23606
Registration is required, so click the
link
to reserve your donation time!
The American Red Cross urges healthy individuals to give blood and be the lifeline patients need this winter.
• Donors of all blood types are urged to give now to keep the blood supply stable over the holidays. Blood donations often decline from Thanksgiving to New Year's Day, and the COVID- 19 pandemic may further impact donations.
• Give blood and be the lifeline patients need. Medical conditions and emergencies don't stop for the holidays or a pandemic.
• The Red Cross is testing blood donations for COVID-19 antibodies. As part of this effort, plasma from standard blood donations that test positive for COVID-19 antibodies may now help current coronavirus patients in need of convalescent plasma transfusions.
• Come to give by Dec. 15 for a chance to win an Outdoor Living Experience, powered by Propane. Prize includes a propane-powered pizza oven, fired pit, outdoor heater and stipend toward propane. Details and terms: 
rcblood.org/comfort