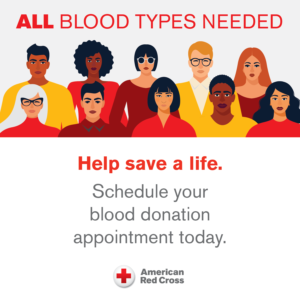 The Junior League of Hampton Roads is proud to sponsor our next blood drive with the American Red Cross on February 6, 2022.  The Red Cross is experiencing the worst blood shortage in over a decade. Please come out and help support your local community with the gift of life.
Every unit we donate at our blood drive can help save up to three lives. Each recipient of that blood donation has his or her own story. He or she could be an accident or trauma victim, cancer patient, a mother giving birth, a premature baby, a transplant recipient or surgical candidate. Our impact goes beyond that patient – it is multiplied by the impact it has on that person's loved ones who are thankful for the unit we donated.
The American Red Cross could not meet patient needs and touch all of those lives if it were not for organizations like ours. We are proud to support our community, our country and be a part of the impact that the Red Cross makes every day.
An estimated 38 percent of Americans are eligible to give blood or platelets, but of those, less than 10 percent actually donate each year. If you are healthy and eligible, please come out to donate. Most donations take about an hour, so book your appointment, roll up your sleeve and become a part of the lifesaving mission of the Red Cross and The Junior League of Hampton Roads
Date: 02/06/2022
Time: 10:00am -2:00pm
Location: 729 Thimble Shoals Boulevard
Suite 4-D
Newport News, VA 23606
**Sign up at: https://www.redcrossblood.org/give.html/drive-results?zipSponsor=JLHR
To thank donors for helping during a time when the Red Cross blood supply is at historically low levels, those who come to give Jan. 1-31, 2022, will automatically be entered to win two tickets to Super Bowl LVI in Los Angeles, California!*