2018 Sustainer Winter Luncheon
You are cordially invited to the 2018 Sustainer Winter Luncheon at Le Yaca!  The event will occur on Thursday, January 18th.  The event will begin with a cash bar from 11:30 a.m. – 12:15 p.m. followed immediately by lunch.
Your $25 ticket includes soup or salad, one of three entree choices, and a dessert.  Please make your reservations by noon on Wednesday, January 17th by either contacting Headquarters or by clicking here.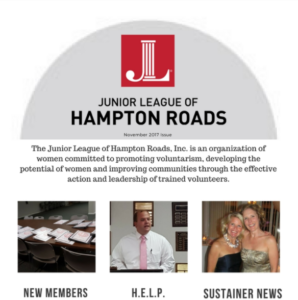 Highlights – Fourth Quarter 2017
Please check out the latest edition of Highlights, created by Historian, Happy Witt.  This publication outlines the League's events from the fourth quarter of 2017, and highlights some upcoming events.  It can be found here.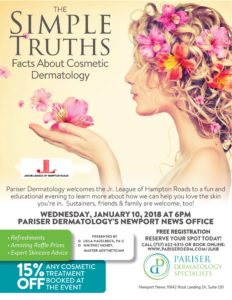 One of the newest JLHR parners, Pariser Dermatology, has invited us to a skincare social at their Newport News location!  The event will be on Wednesday, January 10, 2018 at 6PM, and will feature refreshments, raffle prizes, and skincare education.  In addition, attendees will receive 15% off any cosmetic treatment booked during the event.
The event is free, but please register at http://www.pariserderm.com/jlhr