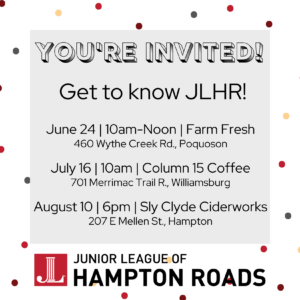 Come get to know JLHR by attending one of the following events to meet members and learn more about the League!
July 16, 10am at Column 15 Coffee, 701 Merrimac Trail R, Williamsburg
August 10, 6pm at Sly Clyde Ciderworks, 207 E Mellen St, Hampton
*all recruitment events are drop-in, so come when you can!
For more information on joining the league, visit here!