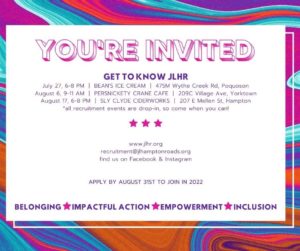 Come get to know JLHR by attending one of the following events to meet members and learn more about the League!
July 27, 6 – 8pm   Bean's Ice Cream, 475M Wythe Creek Rd, Poquoson
August 6, 9-11am   Persnickety Crane Cafe, 209C Village Ave, Yorktown
August 17, 6-8pm   Sly Clyde Ciderworks, 207 E Mellen St, Hampton
*all recruitment events are drop-in, so come when you can!
For more information on joining the league, visit here!