Every year, the Junior of League of Hampton Roads mentors the New Member class as they learn about the League, develop new skills, and create new friendships.  Our 2016-2017 New Member Class has definitely made us very proud!  Read on to learn more about their enormous contribution to the League this year!
May Dinner and New Member Induction
Every year, at the annual May Dinner, the New Member class members celebrate their transition into full active status.  On May 31, 2017, the Junior League of Hampton Roads welcomed seven driven and talented young women into active membership.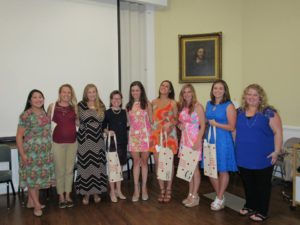 New Member Committee Chair, Kimberly Gibbs (far right), introduced each New Member into the League by giving three adjectives that describe each woman and presented them with an official Association of Junior Leagues, International tote bag.
New Member Project:  Camp for Kids
Every New Member class must develop and execute a service project that fits within the WISE Initiative.  This year, the New Member class created the Camp for Kids campaign to raise funds for the summer camp program at the Fort Monroe YMCA.  The funds raised allow the camp to provide free camp scholarships to students who could not otherwise afford it.
The New Members aimed high with a goal of $3,400, enough to provide 25 summer camp scholarships.  We are proud to announce that they were able to present the Fort Monroe YMCA with a check for $3,115, along with donations of sports and arts supplies.  Not only did this amount allow the YMCA to receive their annual campaign goal, but it granted them a $10,000 donation from the national YMCA endowment.
New Member Involvement in Touch a Truck
This year, one of the requirements for the New Members was involvement in the Touch a Truck fundraising event.  They definitely rose to the challenge!  Not only did they assist with projects before the event, such as filling VIP bags and making phone calls, but they also worked shifts at the event from 6AM through 5PM.  New Member Lydia Fleck also demonstrated her incredible photography skills with amazing photographs from the event.