Every year, the Junior of League of Hampton Roads mentors the New Member class as they learn about the League, develop new skills, and create new friendships.  Our 2017-2018 New Member Class has definitely made us very proud!  Read on to learn more about their enormous contribution to the League this year!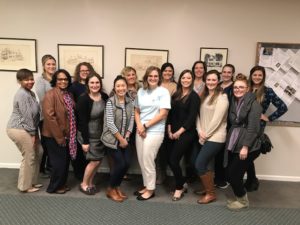 Back Row (Left to Right):  Rachel Samuels, Megan Dern, Morgan Carter, Anne Strickland, Sondra Driscoll-Donaldson, Ashley Alemanni, Juliann Kasza
Front Row (Left to Right):  Marisha Wright, Sonia Motley, Emily-Anne Rigal, Dianna Ta, Kerri Musick, Amanda Barrett, Claiborne Fletcher, Samantha Saghera
 Not Pictured:  Jennifer Lenczewski, Kelly Gibson, Sarah Armstrong, Kelley Giannotti
New Member Courses
Every month, our new members meet with New Member chairs Kim Gibbs and Harper Bathel to discuss learn more about what it means to be a Junior League member and identify how they can use their individual strengths to benefit the League.  In addition, the new members get the opportunity to learn more about one another through ice breakers and to talk with current League members about how to get the most out of their time as an active member.  The cohort also takes time to plan their New Member project.
New Member Project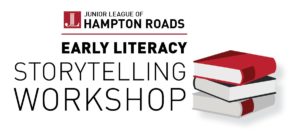 As New Members coming into the Junior League, we are tasked with identifying and developing a project close to our hearts. Our 2017-2018 class has chosen to focus on literacy with young children.  Research on literacy consistently demonstrates that a child's experiences in the first five years of life can influence and predict his or her success in school – and later in life.
We will be partnering with Smart Beginnings, a non-profit organization dedicated to early childhood development on the Peninsula.  Together, we will be holding a storytelling workshop for 30 child care providers in the Hampton Roads area.  Providers will receive hands-on training on sharing a story and retelling with props, using play by acting out a story, and using movement.  The teachers will then share these techniques with over 300 children to develop their picture and story comprehension.
What do we need from you?  We need your monetary support to assist with buying materials for this project to make it a success!  Our New Member class goal is to raise over $2,500 which will purchase 30 hardback books, storytelling felt boards, materials to create story props to retell the stories, 30 sets of foam alphabet letters, and will provide a hands-on training for 30 child care providers.
With your financial support, this will provide 30 classrooms with interactive storytelling materials.  Your donation will assist each of these classes with passing state inspections and better serving the students they reach. You never know how something as simple as a felt storytelling board can impact a child's literacy growth in their early years.
Please consider donating to the Junior League in support of this mission.
Thank you for your consideration.  If you have any questions, please do not hesitate to contact us.
Warm regards,
The 2018 New Member Class
To donate to this cause, please click here.