Every year, the Junior of League of Hampton Roads mentors the New Member class as they learn about the League, develop new skills, and create new friendships.  Read on to learn about the 2018-2019 class!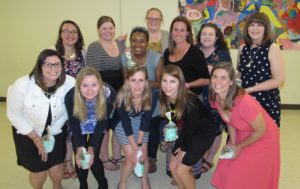 Back Row (Left to Right):  Samantha Castagna, Jenny Bakos, Jasmine Brown, Katherine Simpson, Kristin Schafer, Brittany Grimmett, Carolyn Pittman
Front Row (Left to Right):  Amanda Wright, Mary Willoughby Romm, Autumn Marshall, Brittany Fisher, Emily Longenecker
 Not Pictured:  Amanda Rose
New Member Course
Every month, our new members met with New Member chair Ryan Sykes to learn more about what it means to be a Junior League member and identify how they can use their individual strengths to benefit the League.  In addition, the new members got the opportunity to learn more about one another through ice breakers and to talk with current League members about how to get the most out of their time as an active member.  The cohort also took time to plan their New Member project.
New Member Project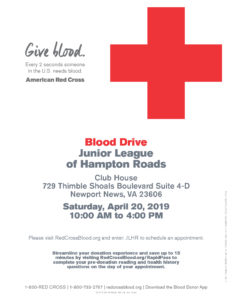 On April 20th, 2019, the New Members hosted a blood drive benefiting the American Red Cross.
We chose the 
Red
Cross
 as a community outreach partner because we wanted to be a part of the good that they do.
Every 60 seconds, 44 people in America are assisted by the American 
Red
Cross
.
15,500 people every day receive lifesaving 
Red
Cross
 health and safety training.
1,000 times a day the 
Red
Cross
 provides services to military members, their families and veterans.
190 times a day 
Red
Cross
 workers help families affected by a home fire or disaster.
From a blood supply standpoint:
Every 2 seconds someone in America needs blood.
The

Red

 

Cross

 must collect 14,000 units of blood each day.
Blood collected by the

Red

 

Cross

 helps millions of patients in over 2,400 hospitals across the country.
Each blood donation can help save up to three lives.
It only takes about an hour to give blood.
80 percent of blood donations are given at blood drives hosted by organizations like ours.
The New Members were proud to announce that we had 39 blood donors! We appreciated all the support from the American Red Cross, members of the JLHR, and, of course, the donors!