May Dinner 2016-2017
Every year, the Junior League of Hampton Road's celebrates the past year with an annual dinner.  This year's May Dinner took place on May 31st at 6PM, and was held at historical St. John's Episcopal Church in Hampton, VA.  The dinner began with a wonderful meal from the Grey Goose, also located in Hampton.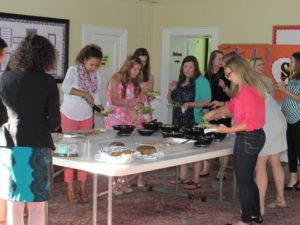 Community Assistance Grant Presentation
This year, the Community Assistance Grant was awarded to the Avalon Center in Newport News, VA.  A representative from their organization was gracious enough to come to the event and discuss the mission of the Avalon Center.  They plan to use this grant to fund their Summer Strong Resilience Building Youth Day Camp.  This program will offer children, who have been the victims of abuse, the opportunity to learn coping skills along with peers.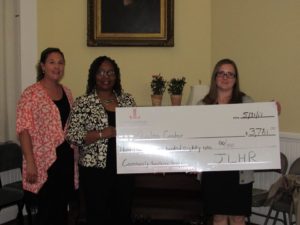 The Giving Key
To celebrate our 60th anniversary, the JLHR purchased a Giving Key necklace with our name engraved.  Every month, the member who holds the key presents it to another member.  The key is passed to a member who truly embraces the values and ideals of the Junior League of Hampton Roads.  This month, Kimberley Gibbs (left) presented the key to Alison Foley (right), who will wear the key until our first General Membership of the next year.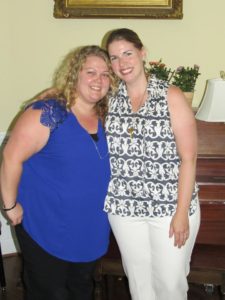 Length of Service Awards
Every year, the JLHR honors those members who have served in the League for five and ten years.  These women have provided countless hours of service to their community and serve as sources of knowledge for the members around them.  Each awarded member was presented with a pin for their meeting badge.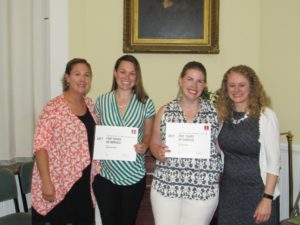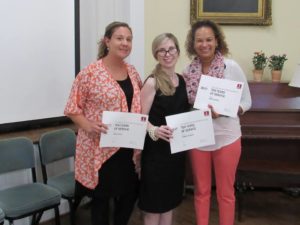 Perfect Attendance
With our Flexible Commitment Points system, members are no longer required to attend a set number of meetings.  Instead, they choose to attend to connect with the League and participate in voting exercises.  The women awarded the Perfect Attendance award went above and beyond, attending all nine General Membership Meetings this year.  We appreciate their dedication to the League!  As a bonus, these members receive 5 Flexible Commitment Points to start the next year!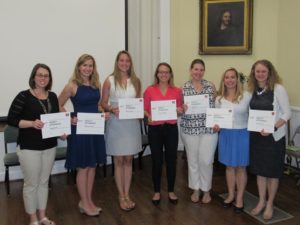 Janie Radford Dwyer Volunteer Service Award
The Janie Radford Dwyer Volunteer Service Award is given to a member who has dedicated herself to voluntarism, both inside and outside of the League.  This year, we were proud to give the award to Marcella Williams for her commitment to the aging population in Hampton Roads, as well as to fighting the opioid epidemic.  
Liz Jones Commitment to Community Award
The Liz Jones Commitment to Community Award is given to a member who dedicates herself to her community through involvement in a number of organizations and community activities.  This year, we were proud to give the award to Jennifer Leung for her commitment to her community, both in the League and at work.  We are so proud of everything that she has done.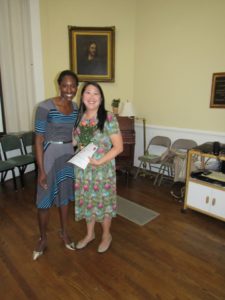 Friend of the League Award
Every year, we present this award to an organization or individual, who is not a member of the League, but continuously supports our efforts and champions our causes.  This year, we presented the award to Virginia Health Services.  They continually contribute to our campaigns through sponsorships, and even sponsored our 60th Anniversary Celebration.  Thank you Virginia Health Services!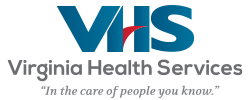 Honoring Retiring Staff Members
This year, our two administrative assistances, Mary Cooper Johnson and Kathleen Dolan, retired after many years of service.  They have provided countless hours of support and have touched the lives of many League members.  While it is hard to say goodbye, we wish both of them a restful and joyous retirement!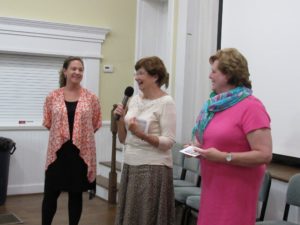 New Member Activation
Seven New Members were transitioned into active member status during May Dinner.  To learn more about the amazing achievements of this class, and about their presentation at May Dinner, click here.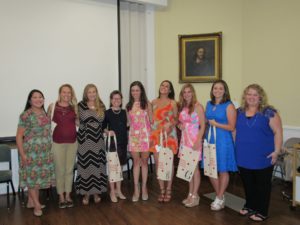 Members Becoming Sustainers
One of the most tearful moments of every May Dinner is when we say goodbye to those members who are transitioning to Sustainer status.  These members have given many years of service to the League, and we hope they continue to participate and offer guidance throughout the years.  Each member provided words of wisdom for our upcoming New Members and shared their favorite memories.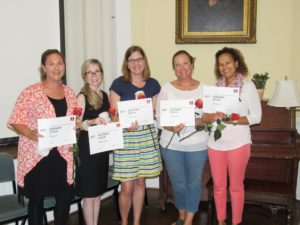 Outgoing and Incoming President's Speeches
Outgoing President Jennifer Devlin concluded her year the way it began.  Last year, she had asked members if they were "All In" for the year, and in her final speech, she said that this year, every member showed that she was.  The League is grateful for all of Jenn's hard work and dedication!
Incoming President Lee Gonzalez gave an empowering speech about what makes the League great.  In her opinion, it isn't just the community service or financial contributions that the League makes.  It is the women within it, and the things that they are able to do with the knowledge and training that the League provides them.  Everyone is very excited to embrace Lee's vision for the upcoming year!