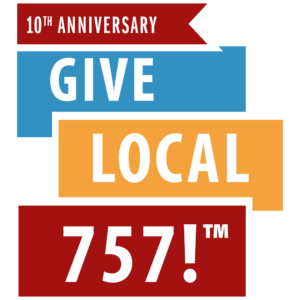 Please join us on Tuesday, April 25, 2023 at 10:00am for Give Local 757 – an annual day of giving and philanthropy for the Hampton Roads community!
Give on April 25 through our #GL757 page to help us reach our goal of 66 donations for 66 years as a Junior League.
Whether you give $5 or $500, your gift will help us reach our goal and will support the JLHR's work in the community.
Why Give for Give Local 757? Funds raised on April 25, 2023 10am – April 26, 2023 10am will directly support:
Our work with our partner organizations – Peake Childhood Center (formerly Downtown Hampton Child Development Center), Smart Beginnings Virginia Peninsula, and Alternatives, Inc. and
Our annual Scholarship for exceptional high school seniors.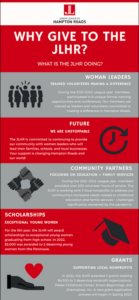 Thank you for helping us reach our goal and supporting women making a difference!

Want to more than double your contribution? Consider providing a MATCHING DONATION! The JLHR is looking for a generous donor to provide a matching donation for Give Local 757. Will you pledge a matching donation of $250 or more?
Statistically, matching donations:
Increase gift size by 41%,
Increase the number of donations by 110%, and
Increase revenue by 120%, excluding the actual matching donation!
If you would like to provide a matching donation, please contact Kristin Greene at FundDevelopment@JLHamptonRoads.org.