SAVE THE DATE!
#GivingTuesday is December 3rd, 2019 and the JLHR is participating. Giving Tuesday is a global day of giving fueled by the power of social media and collaboration.
Throughout the next month, we'll be sharing posts about the importance of how your direct support of the JLHR impacts our local community.
#JLHRGives #SeasonOfGiving #JuniorLeague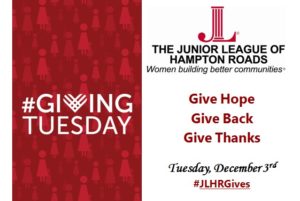 You can show your support of the JLHR by making a donation today. Every donation counts, no matter the amount. Funds received through this campaign will help to support women and children on the Hampton Roads peninsula.
Click here to donate. Thank you for your support!