The Junior League of Hampton Roads partners with local nonprofits to provide volunteers for projects that can be completed in one day.
Our goal is to offer hands-on volunteer opportunities to our members while providing nonprofit agencies with trained, enthusiastic volunteers.
Ideal projects: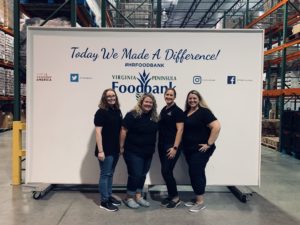 Just need "hands for a day"
Are 3-6 hours long
Require a minimum of 2 volunteers
Projects impacting women and children on the Peninsula will be given preference, but others are not excluded.  Our Board of Directors reviews all requests and arranges volunteer commitments with nonprofit organizations where we feel we can best be of service.
The Junior League of Hampton Roads is currently accepting applications for Done in a Day projects through May 31, 2021.  Done in a Day Projects are opportunities that enable Junior League volunteers to complete volunteer shifts on a single project.  Past examples of Done in a Day projects have involved shifts for food drive staffing, toy cleaning, staffing a blood drive or training on literacy, meal preparation, and volunteering at a fundraising event.  Applications are rolling, however they must be submitted 6 weeks prior to project date. Questions about the application can be sent to VPCommunity@jlhamptonroads.org .
We look forward to hearing from you.