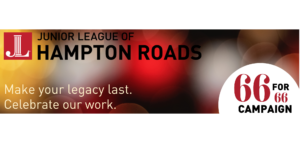 Dear League Supporters,
Happy New Year! It couldn't have happened without you! Sixty-six years of helping diverse organizations, developing stronger leaders, and changing lives in the Hampton Roads community. As we continue into the 66th year for Junior League of Hampton Roads (JLHR), we turn to you—as a valued part of our past, present, and our future. To continue the important work that we would like to do and that the community is expecting from the JLHR, your continued support is vital. Please take a moment to learn about the three specific areas of need where you can make an impact—and then consider giving at least $66 in total for any combination of the three. Help us reach our fundraising goal of $6,000 for year 66!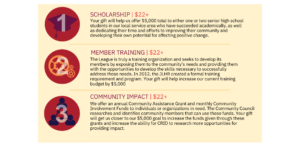 The JLHR remains committed to providing for the needs of local women and children through our program development, community outreach, and volunteer hours. Your generosity will enhance our members' ability to make a meaningful difference in our community. Thank you for your continued support!
Sincerely,
Harper Bathel, President 2022-2023